The Battle at Ramelle was a small battle fought by American Soldiers, and German Soldiers at the town of Ramelle in Normandy, France.
History
Field Marshall Erwin Rommel knew that if the airborne were able to occupy all the bridges on the merderet river, they would be able to cross into the rest of Normandy. So he sent a group of SS Troopers led by Major Hoess to get and destroy every bridge.
The SS were able to do that to all but the one at Ramelle. The Airborne figured this, and a Colonel decided to dispatch a group of Paratroopers led by Captain Jennings to hold the bridge till reinforcements could arrive.
The Airborne came, and sat out many brutal bombings. During the bombings, Captain Jennings was killed, leaving Corporal Henderson in charge. When Miller's Men got there they found James Ryan with other 101st paratroopers. He refused to leave, and the Rangers stayed and helped the 101st keep the SS from getting the bridge. Although many of the people died the battle was a victory. 7 out of the 19 men survived, including the Ranger's main objective, Private Ryan.

Outcome
The Battle was won by the Americans, but at a high cost. At least 12 men were killed, and three were injured. Among the dead was Captain John H. Miller, who commanded the combined Airborne and Ranger forces at Ramelle. The bridge was kept from the Germans, and Ramelle came under American occupation after the battle.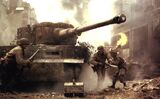 Community content is available under
CC-BY-SA
unless otherwise noted.