Welcome to my page
| | |
| --- | --- |
| | This user is a staff member at Saving Private Ryan wiki. |
Hey. I'm Snivystorm. I have been an editor of this wiki for going on 6 years now. I am also an Admin on this wiki so if you have anything you need help with or want to bring something up, leave a message on my talk page. I'll reply as soon as I can. As a general guideline consult here ---> Saving Private Ryan:General Rules
If I had to list my 3 favourite war movies/TV series, it would be:
1) Saving Private Ryan- this is (in my opinion) the best war film ever. I love how it shows the horrors of war by using the fact that 8 men have to save ONE and was the very first war movie to be realistic about it.
2) Band of Brothers- this is an amazing TV series about the 101st Airborne paratroopers of Easy Company. I love how it covers so many characters story-lines in such a short time and how everyone is the main character (although I guess you could say Winters is the main character as he has the most story focuses and is seen the most through the series). I also love it constants action and how there is never a dull moment. By the way, I also love The Pacific as well made by the same people as this.
Favourite episode - Episode 3 "Carenten" because it had two skirmishes in it and explored the idea of Shell shock through the character Blithe.
Least favourite episode - Episode 8 "The Last Patrol" because it just seemed a little pointless and not much really happened.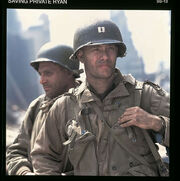 3) Letters from Iwo Jima- it's a good film as it shows the Japanese point of view of the Battle of Iwo Jima and isn't very biased. I watched it when I found out it was a companion piece to the film "Flags of Our Fathers" which is my fifth favourite war film.

Active Admin- October 3rd 2013- Present
Thanks for reading :D  ♡ Snivy ♡ The coolest Pokemon ever ✦
Community content is available under
CC-BY-SA
unless otherwise noted.